Dream Demon Palette Journey: Part One- The Genesis
The Dream Demon Palette is now available. Let me tell you of how I summoned this collection of glorious shades in a time of darkness-
Hello Dream Demons, it's Indie. Owner and Director of Wishbone Cosmetics
I'm going to tell you the story of how I started my company and how I created my first product, the Dream Demon Palette ® . This journey was tumultuous, beautiful, stressful, wonderful and at points very dull. Which is the case with many a upstart business.
I will give a trigger warning as I'm going to be lightly referring to my ongoing battle with depression. But I think it's important that everyone understands the peaks and valleys that comes with manifesting a dream whilst trying to get through the chaos of day to day life.
I'm doing this is three parts because there is a LOT to cover and this story is not neat and tidy, it's rather all of the place and makes no narrative sense (such is life). But I will do my best!
So here we go...
It was Early 2020. The pandemic was looming. All seemed lost and dark. My theatre career and my dreams were brought to a standstill. I felt so alone. Everything I had planned to do seemed ruined. I decided I needed to find something creative to do, otherwise I would continue living in a dark cloud of failure.
I started to create gaming content online, firstly through YouTube then on Twitch. Through that I met some incredible people and made friends that I consider family to this day. I started with creating Sims videos and strea,s, but honestly I felt I wasn't "cool" enough to be in the Sims content creation club. So I said "sul sul" to Sims and I moved into streaming scary games. Which is where I started to find breadcrumbs of what would eventually bake into my passion for horror.
A battle of passion and pain.
I found solace in playing games such as The Evil Within and Alice Madness Returns. Theatrical horror is how I would best describe them. I genuinely believe games like this inspired me creatively and themes which would one day tie into my company. Not only did I discover amazing horror games to play (to which there were MANY) I found my community. I worked with incredible people, like my now best friend Reeva who I had met in my Sims days. We made communities called The Haunted House and Moody Chronicles. It was a way to bring horror creatives of all backgrounds together.
There was a lot of trial and error, but it was worth it. We met amazing creators, learnt new skills and honestly, watching Reeva was like watching a masterclass in Marketing. Ideas were forming in my head which I wasn't fully aware of. They taught me so much and little did I know they would be a crucial cog in the creation of Wishbone Cosmetics. Together we created charity events called "scream-a-thons" . We raised money for organisations such as the NAACP and Guardians Mental Health. I loved working with them and I knew we were destined to work together on something special.
But as time went on, my own demons got the best of me. I ended up working two jobs on top of streaming, one as a carer, the other in a bank. Both jobs taught me about time management, how to handle finances and a lot about administration. So I appreciate the skills I learnt, but I would be lying if I said it didn't take a toll on my mental health. I struggled throughout the pandemic with insomnia, alcohol and and yes, depression. I fell down the rabbit hole hard and ghosts haunted me into a very dark place. It really forced me to look at where I was going with my life.
Streaming and content creation was fun but wasn't my true passion. But I knew I was onto something. I had the ingredients. I loved the sense of community, I loved horror and soon I discovered something beautiful. My love of makeup.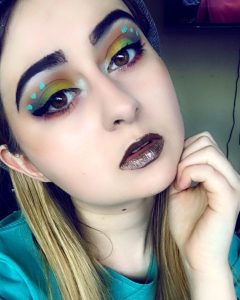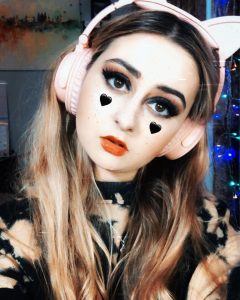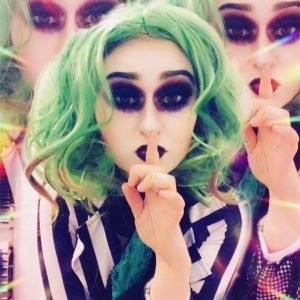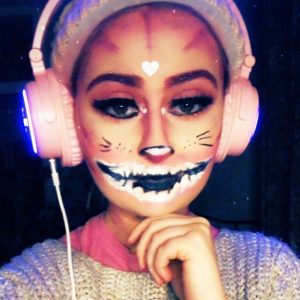 I fell in love with creating looks.
Now I've always enjoyed makeup. My Facebook and early Instagram photos from the early 2010's (which will never see the light of day again) can attest to that. Makeup was a skill I honed over decade, which was something I was proud of. I can't paint a picture, but I can paint my face! So I decided (I cannot recall the first time) to start creating makeup looks on Twitch. And this changed everything for me. I found I would rather stream myself doing makeup than actually playing games. Makeup had gone from a skill in my back pocket to a passion in my palette...yes that was a pun and I will probably do another one. #sorrynotsorry.
I started to research more into cosmetics, looking up brands, looking into vegan and cruelty free companies, learning techniques, the manufacturing process and so much more. I must state, I am not a professional MUA, but I am bloody passionate about makeup and I worked bloody hard for two years to not only learn how to apply makeup better but the process of manufacturing and the beauty industry. My skills are self taught and are thanks to the amazing creators whom I learned from on Youtube.
As 2020 came to a close, I was still unsure of what to do. The pandemic was still prevalent and the world of theatre was still closed for business. As the final days of December 2020 past, I looked at my last year and considered what I had learned.
I love horror games
I love all things makeup
I needed to create.
Then something wild happened.
I decided to create a cosmetics company.
I had spoken causally about the idea of a creating a cosmetic company with friends, specifically creating an eyeshadow palette. I sketched little ideas, which turned to mock-ups which turned into genuine concepts. I designed a logo in my artbook which my INCREDIBLE mother (who's a badass artist) made into a real logo.
I had a feeling in my heart that this was something that could become a reality. So many dreams of mine stay as nothing but scribbles on paper and pictures in my head.
So rather than run before I could walk, I chose to fly. I registered Wishbone Cosmetics in January 2021. Once the government knew about me, there was NO going back. Thus the company was born and the Dream Demon Palette was a drawing in a sketchbook that I was ready to summon.
This was Wishbone Cosmetics' Genesis, but my personal Exodus had only just begun.
Part Two to the Journey of Wishbone Cosmetics will be out Friday October 7th, in which I'll go into more detail about the specific creation of the Dream Demon Palette ®, the specifics of starting the business and the events along the way.
Till next time Dream Demons,
Indie Wishbone x